Meet Mobile Stethoscope Diagnostics, third place winner in the 2015 Wireless Innovation Project. Based at the MIT D-Lab, founders Rich Fletcher and Daniel Chamberlain developed a low-cost pulmonary disease diagnostic platform implemented on a mobile phone.
Pulmonary disease (which includes asthma, chronic obstructive pulmonary disease, pneumonia, lung cancer and tuberculosis) is a particularly large burden in developing countries due to a lack of air quality regulation. This can result in an abundance of air pollution from smoking and cooking on fire stoves, for example, which ultimately produces respiratory problems for people living in these areas. In addition, poor access to health care and affordable screening tools for early detection exacerbates the conditions once they start.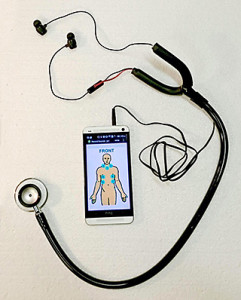 "The typical way you diagnose these pulmonary diseases is through a battery of tests, using three main machines, and each of them costs tens of thousands of dollars," said Daniel Chamberlain of Mobile Stethoscope. "In addition, they require advanced training on the part of the technician, all of which is cost and resource-prohibitive in the developing world context."
To address the need for more accurate auscultation and disease diagnosis, the team at MIT developed two separate versions of mobile stethoscope tools, acoustic and USB, which are powered by the phone and do not require separate batteries. Their solution also includes a peak flow meter, which is less than $10 and makes use of custom augmented reality software that the MIT team developed to capture the data onto the phone. Altogether, these tools are designed to record and automatically classify different lung sounds, measure lung function, and provide diagnostic support to the doctor or health worker. This was done in collaboration with the Chest Research Foundation in Pune, India.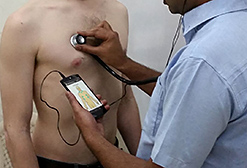 "Our solution was to take a series of devices that cost well under $100 combined and back them with intelligence on a smart phone to diagnose these diseases," said Rich Fletcher from Mobile Stethoscope.
Ultimately, the team hopes that their project can provide an easy and efficient solution to reduce the incidences of undiagnosed pulmonary disease.
As Fletcher said, "We want to put our mobile platform in the hands of health workers so we can really transform the way that pulmonary diagnostics is currently done not only in India, but throughout the developing world."
The MIT team is currently in discussion with potential partners and investors in India and the US to deploy the technology in both public and private sectors.