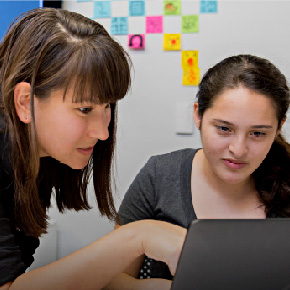 Our goal is to provide women and girls with greater economic opportunity and help close the gender gap. The Vodafone Americas Foundation sees now as a powerful time to support women and girls.
Statistics show that investing in girls and women improves communities enormously; that girls and women spend 90% of their earned income on their families, while men spend only 30–40%. Specifically, supporting technology grants to women and girls will be effective because statistics show that by 2015, 90% of jobs in all sectors will require tech skills. That is why the Vodafone Americas Foundation supports technology programs that empower women and girls.
We look for programs such as STEM projects for girls that provide opportunities for them to learn new skills, sustain their interests in the field and allow them to thrive and excel. We support advocacy and gender work for women in and through technology that strengthen their stance in the sector. We've already supported agencies for their development of technology that provides safety and protects women from violence, allows new and speedy ways to seek services to support their families, and created solutions for women-specific health issues. We'd like to continue to help build a future where women have a voice not only in the technology sector but within their communities and the world.
With Vodafone's new global partnership with the Malala Fund, the Vodafone Americas Foundation would like continue to support Vodafone's involvement with women and girls. Current supported causes include:
Girls Who Code – a national nonprofit organization working to close the gender gap in the technology and engineering sectors through immersion programs covering tropics ranging from introduction to computing, robotics, graphics/animation, data structures/algorithms, to mobile app development.
TechGirlz – a nonprofit dedicated to reducing the gender gap in technology occupations, has been able to extend its technology workshops to increase girls' interest in technology careers.
Internews – an international non-profit working at the intersection of media, information, and development to ensure people are fully empowered with the information they need.