Each year, we seek a balanced panel of judges by selecting leaders from diverse areas such as nonprofit, business, venture capital, entrepreneurship, journalism, technology and social enterprise.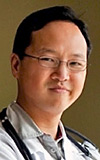 Enoch Choi, MD
Dr. Enoch Choi, MD is a full time Family Physician providing same day care at Palo Alto Medical Foundation. He leads medical disaster relief trips as the Medical Director of Jordan International Aid, having led dozens of trips to the Philippines, Japan, Haiti, and to areas affected by Hurricanes Sandy and Katrina. His medical informatics consulting practice provides training, product design, and expert witness expertise to start ups, institutions and government agencies. His board involvement includes nonprofits: Palo Alto Community Foundation, PAFMG Healthcare Endowment, YCIS-SV, NIH AHRQ Standing Member and startups: LiveLeaf and FosmoMed. Find him with his family camping and watching movies, singing karaoke on wednesday nights at Patio at Rudy's, skiing, fishing, cooking with molecular gastronomy, and volunteering with New Beginnings Community Church. Facebook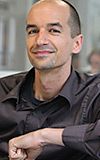 Pascal Finette
Pascal Finette loves technology and believes that the Internet is deeply impacting mankind. He got started on the Net before there was a web browser, founded a couple of technology startups, led eBay's Platform Solutions Group in Europe, launched a consulting firm helping entrepreneurs with their strategy & operations, invested into early-stage tech startups, led Mozilla Labs, created Mozilla's accelerator program WebFWD, headed up Mozilla's Office of the Chair and invested into social impact organizations around the globe at Google.org. He also created the non-profit organization Mentor for Good, the GyShiDo (Get Your S%#& Done) movement and publish the opinionated The Heretic newsletter.
Today, he works with large and small organizations on building entrepreneurial ecosystems, establish open innovation practices and design thinking inside companies and support entrepreneurs and intrapreneurs all around the world. He frequently speaks and writes about the magic which happens at the intersection of entrepreneurship, technology and global impact. As a trained Co-Active executive coach he works with clients on achieving their full leadership potential. Most of all, he loves to work with entrepreneurs who are making things better—be it as a consultant, board member or mentor.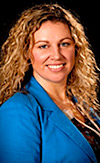 Corina Gardner
Corina Gardner is the creator and Senior Manager of the Mobile for Development Impact (M4D Impact) program at the GSM Association. As the trade association representing over 800 mobile network operators globally, the GSMA also supports the digital empowerment of people in emerging markets through its M4D Impact program. It is a central platform of data, analysis and insight used to inform investment and design decisions for mobile services and is made freely accessible through support from Omidyar Network and in partnership with The MasterCard Foundation. Previously, Corina's career has been focused on international development, working with USAID, State Department, and various consulting companies she has spent 8 years managing, implementing, and advising on foreign aid projects.
Corina has a BA from University of California, Berkeley and an MBA from Judge Business School, University of Cambridge, UK.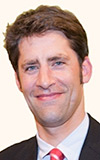 Markus Pratschke
Markus Pratschke is the Head ComOps IT Competence Center at Sandoz International. Together with a distributed international team, Markus currently supports various market models for Sandoz through CRM and digital marketing technologies and services. Before that, he spearheaded digital health opportunities for Novartis Pharma in order to improve patient outcomes, both in clinical and real life settings. Since joining the Novartis family in 2006, he has worked in roles of increasing responsibility at the interface of Marketing and IT: most recently as IT Head Patient Services, as IT Head Patient Outcomes & Innovation, as New Products Director Respiratory Devices and Associate Director for Social Media. Before Novartis, he spent seven years in business and IT consulting at Andersen Consulting and Accenture. He has a degree in psychology and an MBA from INSEAD. Markus is a native Bavarian, married and has two sons.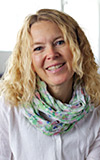 Lynda Smith
Lynda Smith brings over 25 years of experience in marketing, sales and general management across a diverse set of industries and has spent the last 15 years working in the area of high technology products and services. In her capacity as SVP Marketing/Chief Marketing Officer for a number of companies including Genesys Telecommunications Laboratories, Nuance, Genpact, Jive, WeVideo and now Twilio, Lynda has been responsible for the full end-to-end marketing responsibilities of an organization. As General Manager of Nuance's call center division, Lynda had P&L responsibility for one of the core businesses of the company with oversight of engineering, sales, services, marketing and M&A activity. Her industry experience includes aerospace, telecommunications, enterprise software, mobile solutions, global outsourcing, digital media and social. Lynda's global background is extensive with hands on experience in driving business in the US, Europe, India, China and other major markets. Lynda has an undergraduate degree in liberal arts from Simpson College and an MBA from the Wharton School of Business at the University of Pennsylvania. She is on the faculty of Stanford University where she serves as a lecturer in Global Entrepreneurial Marketing and Professional Education programs.